Taking meeting minutes isn't as easy as they make it seem. How do you take great notes? And how do you use them to create professional and effective minutes? Good minutes help everyone remember what was said, track any decisions, and clarify action items. Without them, confusion can set in as everyone's attention starts to wane.
If taking meeting minutes is your responsibility, you've no doubt faced the eternal dilemma: Write too little and you risk missing a vital detail.
In this article, you'll learn how to make people go: "Woah, those are some impressive minutes." Let's dive right in.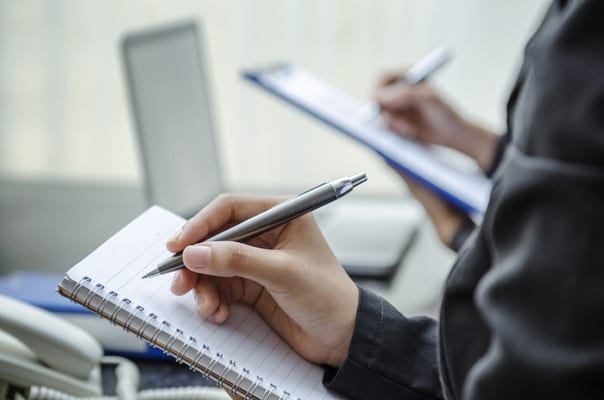 Purpose of meeting minutes
Meeting minutes are the most important part of any meeting. It doesn't matter if we're talking about a simple team meeting, a committee meeting, a task-force meeting, or even a board meeting. Minutes should be clear at a glance, so anyone who reads them days or weeks later can quickly find what they need.
Minutes are used to record decisions and action items. Plus, they lay out the next steps.
So you could say they have three separate functions:
To make sense of meetings and remind meeting participants of what was decided.
Share meeting information with people who didn't attend.
Record meeting information for future reference.
Meetings need to be as effective as possible. So now you know why your role as the person keeping track of your team's minutes is crucial.
Make Sure Your Meeting Minutes are effective
The first step to successful minutes is not what you think. It's not sitting down at the meeting table and starting to take notes. The secret to effective meeting minutes starts way ahead of the meeting.
You frontload most of the work. During the meeting, you don't have to keep track of details like discussion points. Instead, you can focus on capturing what's being said.
How Do you plan ahead? Your agenda is an outline of your meeting.
Instead of including a few vague points – make it an in-depth overview of your meeting.
Yes, you should include talking points. But also include the meeting's key objective or goal.
Ask yourself:
"What's the one thing we'll achieve during this meeting?"
It doesn't have to be a specific decision.
During your meeting, you can make several decisions.
Those decisions are probably tied to a specific project. So in that case, your meeting goal is to advance this project. Or, maybe it's part of a strategy. Your meeting goal is to test, implement, or work on your strategy.
It'll help you focus on the right things when you take notes and write your minutes. And then, add all those details, like talking points and decisions to be made.
Think you can't be specific because you lack information? Think again. For example, can you ask meeting participants to share their talking points before the meeting?
In any case, the following are the questions you should answer in your agenda
What's the purpose of the meeting?
Where is the meeting held?
Who will attend the meeting?
What's the goal/objective?
What will be discussed at the meeting?
Take remarkable meeting notes
You front-loaded your work in the previous step. Now, you have a good overview of the meeting. Still, you need to take notes. And the better your notes, the easier it'll be to write your minutes.
How do you take the best meeting notes? If you've ever tried taking notes during Missing one point could be costly both in terms of time and money.
Here's how you can optimize your note-taking.
This is where your planning makes all the difference. Organize your notes under each agenda item. Remember, you already have information like names and discussion-points. So all you need to do is fill in what you and your co-workers discuss during the meeting.
Don't try to capture everything.
In fact, try to be as brief as possible. Instead of trying to write full sentences, use single words. Symbols can also be helpful if there are a lot of repetitive words (e.g. "D" for decision and "T" for task). After the meeting, clarify your note-taking (read about this in the third and final step).
A useful hack is to use a recorder during the meeting. You can still take notes. But if you leave out anything important, you can always listen to the recording when you're creating your minutes.
Ask if something's unclear.
There are two advantages to this. You improve your note-taking. But you also make the meeting more effective. After all Meeting participants have to clarify their talking points. Meeting decisions will, in turn, be much more thought-through.
Then, you simply add notes, tasks, and decisions to every agenda item. Other meeting participants can collaborate, so you can ask them to update agenda items with their talking points. Or why not work together on updating the agenda during your meeting?
Write and fine-tune effective meeting minutes
You have your notes. Now you just need to edit them to create effective meeting minutes. When we talked about your agenda, you got a list of questions to ask yourself. Now, use them in your minutes.
What was the purpose of the meeting?
Where was the meeting held?
Who attended/didn't attend the meeting?
What was the goal/objective?
What was discussed at the meeting?
What's the date, time, and location of the next meeting?
What items will be discussed at the next meeting?
And for each agenda item, answer these questions:
What was the agenda item?
What was discussed?
Who said what?
What was agreed as the next step(s)?
Who is responsible for any action-items/tasks? What is the deadline? Who's responsible for following up? Where are the completed tasks recorded?
What will be discussed in the future in terms of this agenda item? What are future tasks and decisions?
Obviously, use this list of questions according to your needs. You don't necessarily discuss all of these things during your meetings. And that's fine. But record all the important information that will help your team move forward.
How do you write your minutes?
Use the questions above to figure out which notes to include. Here, you'll need to do some tweaking. Your co-workers will use your minutes as a reference. So they should be clear, searchable, and easy to use. To achieve this, keep your minutes consistent.
Establish a minute-writing guideline. So you include things like words that are always used in your minutes.
"Action necessary"
"No action necessary"
"No decision taken"
"No consensus reached"
"Deferred to"
"Referred to"
If you've been responsible for your team's minutes before, you know that your minute turnaround needs to be fast. Use MeetingWise to make this an easy process. As we've discussed, you add all the necessary information in the tool during the meeting.
After the meeting, you make changes if needed. Then, you simply download your minutes and share them with your co-workers.
More Posts