Meetings are a major time suck. Inefficient meetings result in massive direct costs for organizations through salaries and office-related costs.
Besides direct costs, meetings also have indirect costs. For example, employees are kept from doing important work. Inefficient meetings also lower employee satisfaction, which leads to higher employee turnover.
It's clear that you want to minimize unproductive meetings in your organization. Inefficient meetings can be turned into productive work.
Below are 5 of our best productive meeting tips you can use to lower your meeting costs, reduce the time you spend on meetings, and make them a more enjoyable time for everyone involved.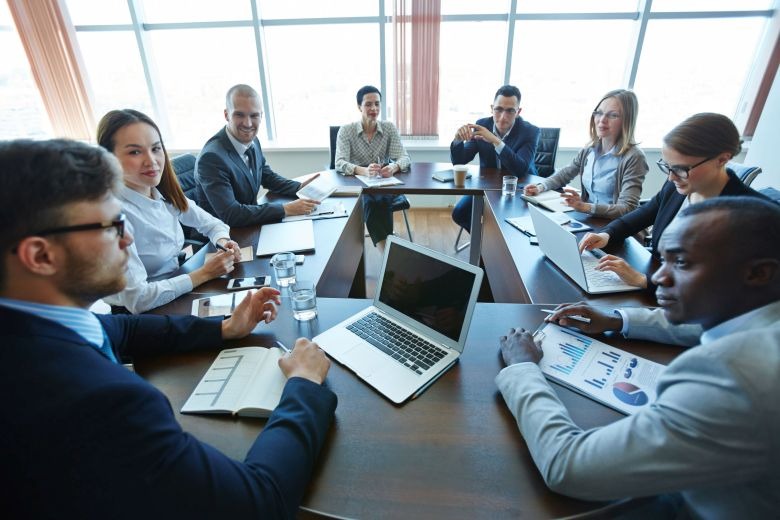 1. All you need is an Agenda
Your meeting agenda is the most important part of a productive meeting: Most of the time you spend on a meeting should be spent before you even enter the meeting room.
Start by defining why you want to hold your meeting.
Is a meeting even necessary? Or can you communicate your message through other outlets, like instant messaging?
For example, a meeting is necessary if the outcome is:
To get input from your co-workers.
To ask for approval.
To pass on information.
If the meeting is necessary, determine what you want to achieve with it.
In fact, the key to a productive meeting is having a clear purpose.
Create an extremely focused and actionable agenda – the meeting will only be about the items on your agenda. Otherwise, you might end up with a social gathering with very little substance.
Be specific about the items you include in your agenda.
Instead of listing vague topics, make statements, and ask questions.
For example
Instead of listing "social media updates," say "What updates will we post on XYZ platforms, and what is the timeframe for our updates?"
You might also want to list things that you don't want to discuss during the meeting… Just to make sure everyone is on board with the purpose of the meeting.
Before the meeting, send your agenda to the meeting attendees. Clearly explain the purpose of the meeting, as well as details for where it will be held. Make sure that you get the details right the first time – you don't want to do a lot of administrative back and forth emailing to schedule your meeting.
2. Limit the No. of Attendees
By limiting attendees and only inviting key people, you ensure that your meeting stays structured and you achieve the outcome you want. Otherwise, you risk ending up with a bunch of people who don't have any clear input and who could be working more productively on their regular tasks. In addition, you keep your meeting cost-effective.
Every attendant has an hourly salary. If you calculate all the hourly salaries together, you get a pretty steep hourly price for the meeting. Keep the number of attendants down and you lower your direct costs.
You might have people in your organization who don't need to be present at the meeting, but still, need to be updated about the outcomes.
To keep these people in the loop, simply send them a memo before and after your meeting to keep everyone on track.
Then there might be people who should attend the meeting to give their input but don't need to stay for the decision-making.
You can allow these attendees to leave after they've presented their points to the group and their presence is no longer required.
3. Keep meetings as short and concise as possible
What's the optimal meeting length? If you schedule a 60-minute meeting, chances are you and your co-workers will fill up this time.
Obviously, this means you're not using your time productively. Instead, always opt to keep your meetings as short and concise as possible. That way, you ensure that your agenda is kept focused and clear of clutter.
Ideally, you should only schedule 15-minute meetings.
In any case, never schedule a meeting that takes up more than 30 minutes. In this case, keep a short pause halfway through the meeting to ensure that you have your co-workers' full attention throughout your meeting.
If you've limited the number of attendees and your colleagues have done their homework beforehand, you won't need more time. Just make sure you give everyone a few minute's time before the time is up to summarize their points and the meeting outcome.
Now, you might have constant interruptions that usually prolong your meeting.
For example, most organizations have employees who like to dominate the conversation. Instead of letting them monopolize the meeting, interrupt them, and ask them to continue during the break or after the meeting.
If you encounter a situation where you need to hear these people out, there's a simple solution for that:
Schedule a one-on-one with them to go through their concerns before the meeting. You can present their insights in a much more concise form during the meeting.
4. Stick to your agenda
You have your agenda. Now you need to make sure that people actually follow it.
To prevent distractions during your meeting, check with your co-workers if there are other items that need to be discussed when you're planning your agenda. If yes, include these items on the agenda.
If your co-workers propose items that are outside of the scope of your meeting, ask them to send a memo to the other meeting attendees.
Or
Propose that they schedule a separate (short) meeting with its own agenda. As productive meetings need to be planned in advance, your colleagues should prepare their input before the actual meeting.
To help them with the planning, make your agenda digitally available before the meeting. You can even ask the meeting attendees to send a short summary of their contributions to you.
That way, you have a complete overview of your meeting.
To really ensure that there are no distractions during your meeting, schedule a certain amount of time for each agenda item and/or person in the room. Clarify these time limits on the agenda so that the attendees can make their contributions as concise as possible.
5. End your meeting with action items
Always make sure that your meeting has a clear outcome. Use the last minutes of the meeting to recap what has been said.
Your meeting should end with the following questions:
What are the next steps?
Who is responsible for them?
What is the timeframe?
Use 30 seconds per meeting attendee to make sure that everyone has an answer to these three questions. This way, it's easy for you to wrap up the meeting. You also ensure that everyone is aware of his or her responsibilities and is accountable to the other meeting attendees.
After the meeting, send out a summary of your meeting minutes with the specific action items you discussed at the end of the meeting.
This will ensure that the meeting outcome is achieved.
Conclusion
Now you know what makes a productive meeting.
And to implement what you've learned, start by drafting organization-wide meeting guidelines.
For example
Create an agenda template so that everyone in your organization has the tools to plan productive meetings and make it a standard procedure for meeting attendees to keep track of their action items.
Please let us know more about it in the comment section below.
More Posts